OK, so everything has gone according to plan, or even exceeded expectations and your startup has reached the stage where it has become too big and you need to take it to the next level. Give yourself a pat on the back because this is an impressive achievement and not all business owners reach the stage where their startup is ready to scale up.
The scale up phase of a business can be both exciting and daunting but it's not as simple as just moving to bigger premises and hiring more staff – no, there so much more involved. The process can be complicated and challenging, so we have put together some tips to help you prepare for the journey ahead.
Great leadership
Your role is going to change significantly and your leadership skills are going to be tested like never before, so you need to acquire as much knowledge as possible. Successful leaders including Bill Gates, Larry Page and Mark Zuckerberg share one common trait – an insatiable thirst for knowledge. This means reading as much relevant material as you can, if you're not a reader you should become one or start listening to audio books. Knowledge, along with experience gives you the expertise needed to handle any obstacles you face.
Be prepared and plan ahead
Your existing systems and processes can hold you back when you start to scale up. From IT systems to supply chains and cash flow to staff. You need to make sure you have robust processes in place that can cope with the additional workload that scaling a business involves.
It is time to look at your business plan to review and revise your growth goals and how you intend to reach them. An up-to-date and well devised business plan can help you with the scaling process to ensure you stay focussed while also reducing the margin for errors. You will also need an accurate business plan to secure any funding at this vital growth stage. Speaking of funding, be open to looking at raising money from outside of the traditional funding circles, there are several platforms to help you raise funds this way.
As your marketing strategy is instrumental to the success of your business you need to ensure your marketing plan is also reviewed and revised accordingly. Also, identify any barriers to growth and take appropriate action.
It's a team game
Successful business owners often say that if you surround yourself with talented people then the rest is easy. That's why you need to ensure you have best people in the right positions and they should fit in with your strategy and culture. It is worth spending some time on the recruitment process to make sure you are in prime position from day one.
Remember once you have found your dream team you need to make sure you hold on to them because if they are demotivated or dissatisfied they will leave. In the early days of scaling up, you probably won't have the financial resources to recruit experts for all areas of the business, so it makes commercial sense to outsource those tasks and functions.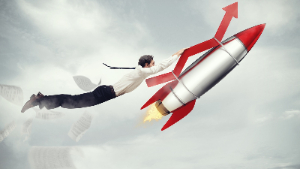 Just say no
When you are eager to grow your business it is easy to say yes to everything and when you ran a startup that was probably OK. Now you need to say no to suppliers and customers who don't fit your business model and say no to people who want to work for you but don't share your company's values. You need to start saying no to staff as well because if you weren't a delegator before, you need to become one now. You have recruited your 'A' team, so to make the most of them you must delegate tasks accordingly, because if you don't, the business will suffer. Everything you do needs to help move your business closer to achieving its goals for growth and success. 
Stay true
As your business grows there will be significant changes and although your business world may seem very different from your early startup days, certain aspects need to stay the same. Stay true to your business values, yourself and your customers – after all, these have helped you get you to where you are today. Maintain consistency at all times and refuse to compromise on quality.
Good luck and remember that you already run a successful business, so the road ahead shouldn't be as intimidating as when you first embarked on your career as an entrepreneur.
To speak with one of our business consultants about scaling up your business, please click here.