The power of the mind should not be underestimated and peak performance coach, Mr Jim Steele, proved that in the opening minutes of his captivating Business Mindset Conference in Cardiff. The event was held in the majestic Cornerstone Arts Centre and Community Hub, a converted chapel, where Steele preached to the masses about the benefits of having a business mindset.
A vibrant atmosphere
The conference, which was hosted by Business Butler in collaboration with Chambers Wales, also featured evening entertainment by comedian, Carl Morgan; and magician Mark Williams, with his aptly named Mind Games show. There were plenty of opportunities for networking throughout the afternoon and evening and attendees were kept well fed with some delicious cuisine courtesy of Spiros Caterers. There was even a shoe shining service available thanks to The Brogue Trader. The buzz and energy in the room was palpable as attendees took to their tables with anticipation about the events ahead.
The busy day began with a couple of icebreaker games and quizzes from Steele who, in a matter of minutes, had the entire audience captivated as he began to reveal the secrets to how psychology can underpin performance.
The power of memory
Steele, who is also an eminent motivational speaker, then announced to the audience that they will be able to memorise 20 random objects that he will call out. The incredulous looks on the faces of the audience and the comments uttered revealed that they didn't have the confidence that Steele had in their powers of recollection. Then to throw the audience into further turmoil Steele added that they will be able to recite the 20 objects in the correct order by the end of the show - cue sniggers of disbelief!
Getting in the zone
Steele has spent the past 25 years researching and studying data on high-performance and psychological programming. He has worked with elite athletes across a range of sports and emphasised the importance of the zone. You've probably seen elite sportspeople being interviewed when they talk about being in a flow state, in the bubble or an athletes high. It is a state of mind where you lose track of time, become laser focussed, remaining completely calm and everything seems effortless because you are at the top of your game.
For most of us it is elusive and mystical but Steele has worked with neuroscientists and performance psychologists to ascertain what the flow state is? What are its triggers? And how from a business perspective can people access it? Wouldn't it be great if you could be in the zone just in time for that presentation to the board tomorrow or the pitch to try and win new business next month? Well, Steele revealed his secrets as he explained to the attendees what they needed to do to optimise their chances of succeeding in this.
A VUCA world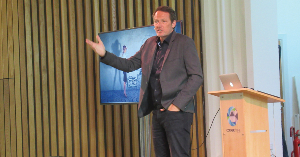 Steele stressed how the business world had changed over the past two years and referred to it as a VUCA world. The acronym stands for Volatility, Uncertainty, Complexity and Ambiguity and represent four challenges that most businesses have had to cope with. During lockdowns managers and business owners were faced with how they could connect with their teams, maintain or improve performance while ensuring the wellbeing of their staff.
Using Artificial Intelligence
This led us on to a company Steele had been working with; KAI, Knowledge through Artificial Intelligence, who were joint sponsors of the event alongside pioneering tech company Ever Nimble. KAI have developed software that tracks conversational DNA by looking at micro-expressions for use on any virtual platform such as Zoom. Users gain valuable insights from data on how a presentation is received, who was or wasn't engaged and why. This addresses a significant issue for businesses because, as anybody who has worked in the virtual world would agree, it is easier to understand your audience and connect with them face to face than online.
Conditioning is key
The charismatic speaker interacted with the audience throughout the presentation and started sharing his expertise on using the mind to recondition to how we react to stressful scenarios. He explained that it is a myth that we rise to the occasion, instead people fall to the level of their conditioning and that you can change your physiology to cope with situations. Steele went on to cover breathing techniques, and the importance of body language and being mindful when presenting and meeting people for the first time.
Steele is about to launch his book – Unashamedly Superhuman- based on a programme he devised combining high performance with wellbeing. Judging by the reaction to his presentation, sales should be high.
The event was a resounding success and the congregation walked down the steps of the historical chapel and headed into the streets of Cardiff with a new self-confidence and robust business mindset ready for the challenges ahead.
Oh, I almost forgot. The audience, much to their surprise, managed to recall the 20 random objects that Steele mentioned hours earlier, and recite them in the correct order – and that included me. The mind boggles…
Business Butler is an on-demand talent platform that connects users with a panel of vetted business experts who specialise in a range of disciplines including marketing, law, finance and human resources. To find your ideal expert please click here.